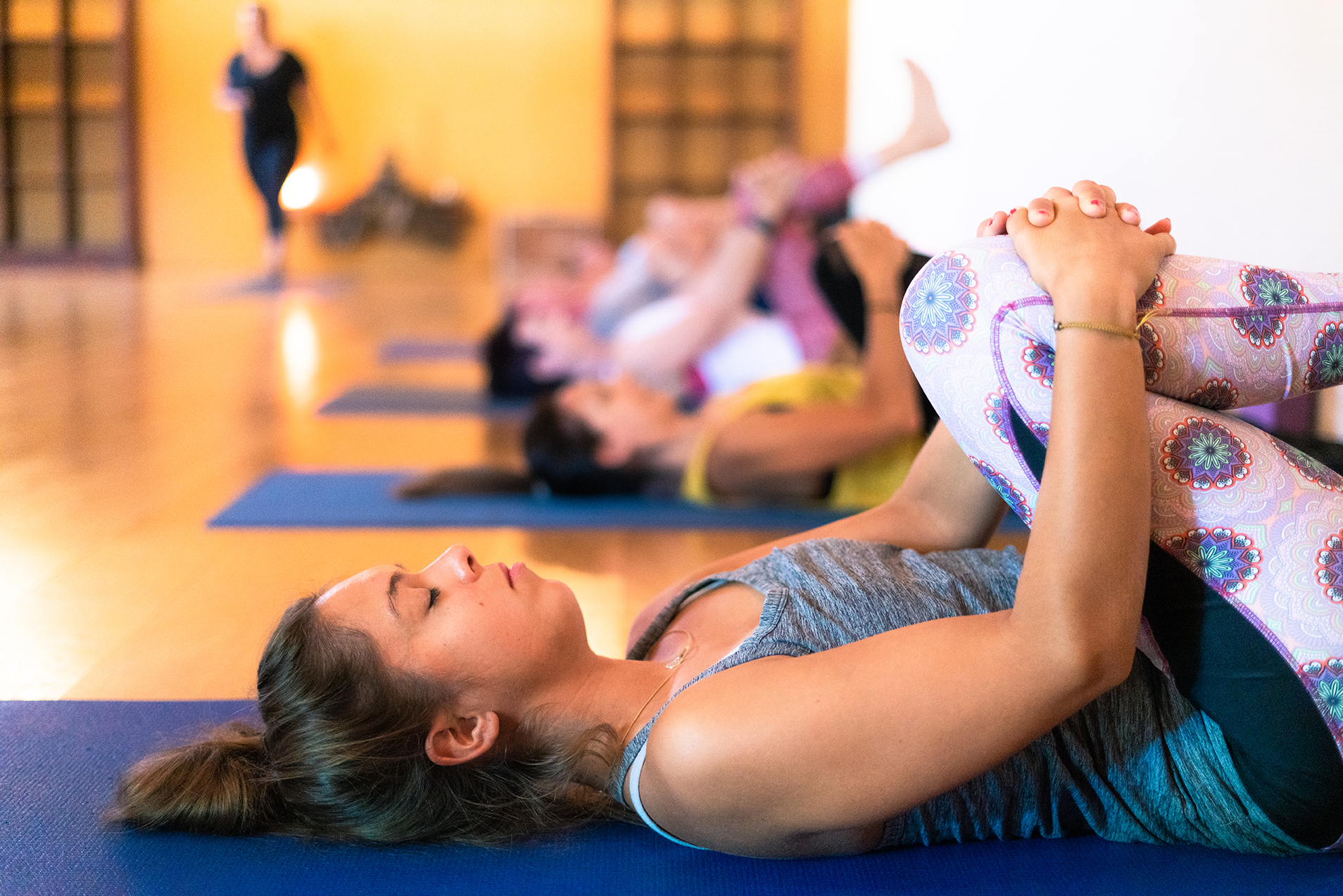 Learn the basics ~ limited to under 20 students in a class for safe,
guided attentive teaching and instruction.
: Yoga breathing
: Yoga postural alignment
: Activate strength to support flexibility
: Develop core strength
: Release stress and how to relax
A dynamic class ~ the perfect balance of mindfulness, strength and flexibility. You are guided as a group through an Ashtanga vinyasa sequence. Ashtanga Guided are our most advanced and challenging led classes of the week. Classes are Level 3 and suitable for students who have:
- completed a Beginners Course at Yoga Om
- a regular practice at Yoga Om or else where.
If your focus is on flexibility then the deep long held stretches of Yin yoga is the perfect class for you. It's gentle restorative approach makes Yin available to all levels of fitness as well as complete beginners.
The practice of Yin yoga provides the perfect balance to an active busy lifestyle, and is complementary to the dynamic yoga practices such as Ashtanga vinyasa.
Yin yoga goes beneath the superficial muscles to target the dense connective tissues of the body, especially in the hips, pelvis and lower spine. Bringing flexibility to areas which are difficult to open and can result in both limited mobility and stagnant energy.
It is active enough to give you all the benefits of yoga and easy enough for all to enjoy.
You are given an Ashtanga sequence of postures. With individual guidance, help and adjustments by the teacher you progress at your own pace. Ashtanga Yoga Postures are given according to the individual. Focusing on mindfulness breath and nonviolence. The class structure is "open", meaning that you can enter the studio when you like and leave when your practice is complete within the scheduled time 5.30 to 7.45 am. Practice times differ depending on the individual and sequence. Approximately one and a half hours.
Beginners to Mysore must start with our beginners intensive course committing to four days a week, so as to familiarise oneself with the sequence. We usually take just one or two students at a time, limited to 5 student groups per course, giving us the opportunity to give you more personalised attention and guidance.
Those who are familiar with the Ashtanga sequence or have a regular Mysore practice are welcome; however we do ask that you send us an email or call to let us know you're coming. Fridays full Primary Series is a counted lead class. Full moon / new moon will be gentle practice. No adjustments will be given.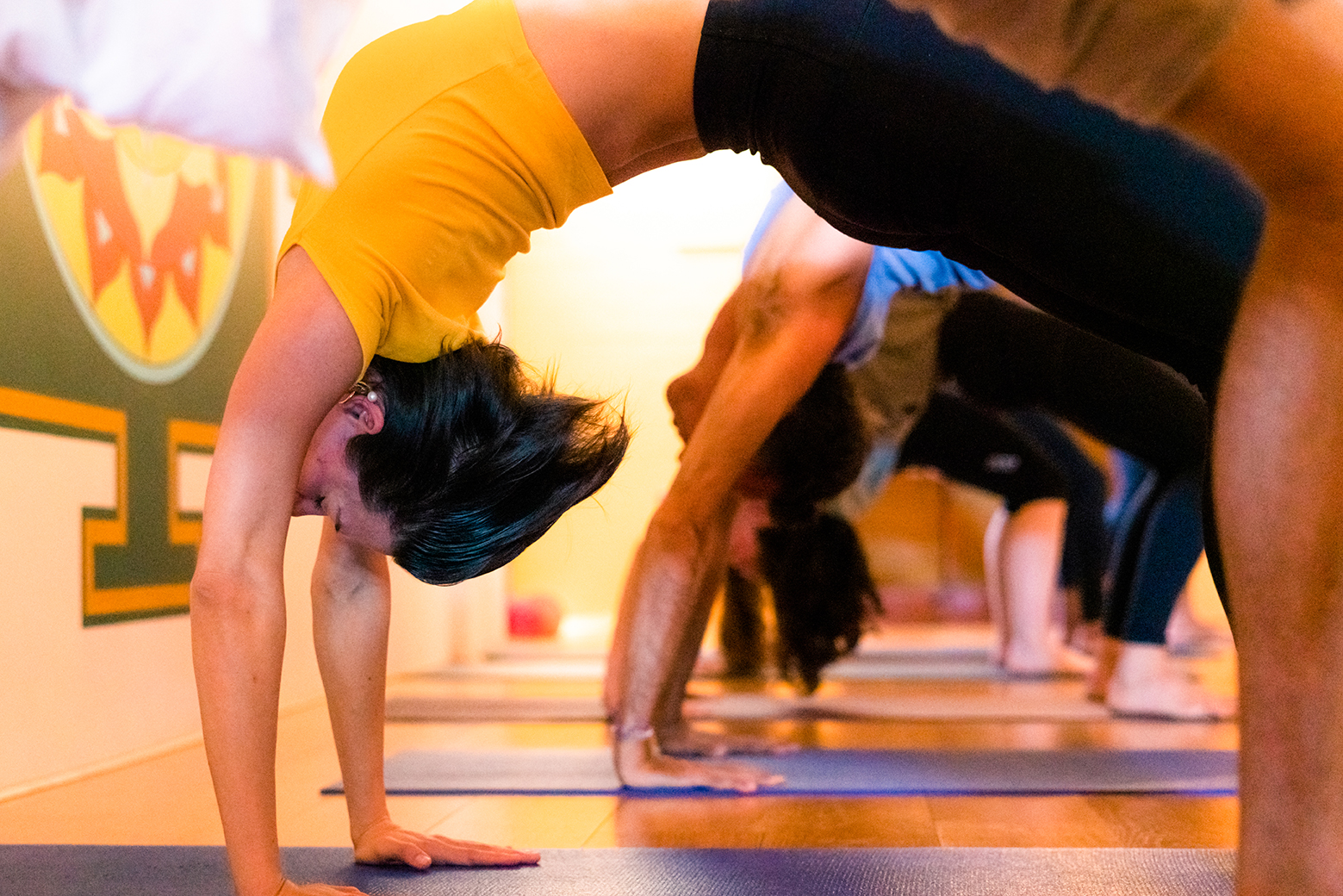 A beautiful balance between strength and steadiness (sthira) and joyful ease (sukha)). An active asana practice prepares the body for stillness by burning away impurities. Then, using restorative postures calm the nervous system and quiet the mind with a series of yin/restorative postures.
Likened to a dynamic dance Vinyasa flow, is a practice where postures are connected through the breath for a transformative and balancing effect. Classes build heat, endurance, flexibility, strength. Vinyasa as a form is always evolving and teachers weave together wisdom teachings and music that can inspire physical, energetic, mental, intuitive, and pure bliss states of consciousness. Classes good for Levels 2 and higher.
Yin-Yang yoga uses warming, dynamic, fluid sequences which target muscle and blood, while Yin yoga uses restful, deep, rejuvenating postures which target connective tissue (ligaments, tendons & fascia).
Yin-Yang classes combine passive and active postures with breathing techniques and meditation, resulting in a deep, integrated and satisfying practice.